The EAMVC 2016 Annual Concert at Worcester Cathedral - proceeds for St.Richards Hospice and Acorns Childrens Hospice
The EAMVC 2016 concert was organised by Worcester Male Voice Choir and held on Saturday 18th June in Worcester Cathedral.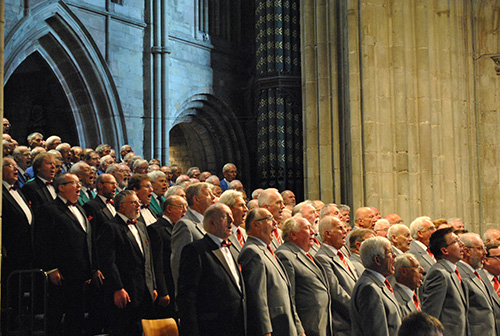 The Cathedral provided a splendid venue and over 200 choristers from the member choirs were greeted enthusiastically by the capacity audience. Performers and audience were formally welcomed to the Cathedral by Canon Alvin Petterson. Special guests included the Mayor and Mayoress of Worcester Councillors Paul and Lynne Denham and the respective Chairman of St Richards and Acorns, John Bawden and David Butcher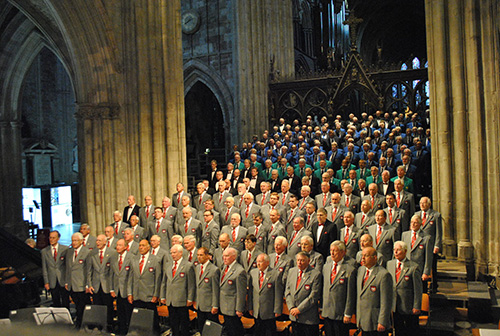 The Concert compere was Lord Digby Jones who treated the audience to a fascinating range of information, stories and insights about the music, about business and industry and the two hospices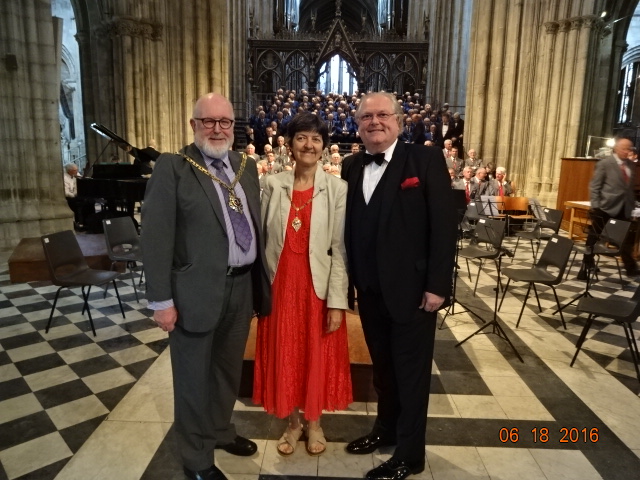 The music programme had been masterfully put together by Nicholas Wright the WMVC Musical Director including arranging for the excellent soprano soloist Claire Bessent, international organist Keith Hearnshaw and the amazing 20 strong players in the Birmingham Horn Sound. Assisted by Sheila Leatherland and Assistant Accompanist Scott Wolfendon the Worcester musical team were in great form ensuring they brought the best out of all the choristers. Favourites from the massed choirs like American Trilogy,African Prayer and Morte Christe set the scene with new pieces adding to the variety in the form of Hallelujah and Cavatina. Worcester Male Voice Choir sang three pieces themselves –For the Beauty of the Earth,Oh Virgin of the Angel Host and Irish blessing which provided yet another dimension. Birmingham Icknield Musical Director Steve Roach and Chris Walk Accompanist took over in preparation for hosting the 2017 concert and led the massed choirs into amongst other pieces Yesterday and Sailing.The guests Claire and Keith not only performed excellent solos but also joined choristers for a number of pieces.Not forgetting the wonderful Birmingham Horn Sound with a super set of arrangements including the Titanic Fantasy and a selection from Der Freischutz by Weber during which Worcester choristers accompanied them with singing the Huntsmen's Chorus. This was a truly magnificent concert-excellent organisation and delivery, beautifully balanced programme, wonderful audience support.
The opportunity for many choirs to join together in this way in large. prestigious venues justifies all the effort which such an event requires. The rewards for choristers are enormous, the enjoyment of the audience incredible and the financial support for charities nominated to benefit from the proceeds so very important.On this occasion both St Richards Hospice and Acorns Childrens Hospice received just over £3000 each. A truly great night.