This concert held in Worcester Cathedral was devised and led by Nicolas Wright, WMVC Honorary Musical Director, assisted by his successor Scott Wolfenden and accompanist James Jarvis.
Nicolas devised a programme that used the massed choir to its full potential and he conducted with great aplomb.
In 'Easter Hymn' he demanded accurate timing and clear diction, in 'Let All Men Sing', powerful chords, in the 'Rose' soft phrasing and in' Psalm 23' gentle swing. He assembled a cast of virtuoso musicians and wove them skilfully into the joint pieces, particularly Highland Cathedral led by Paddy Levack (Bagpipes) and Casper De Vos (Drums) .
In 'World In Union' special mention of Keith Hearnshaw (Organ) and Curzon Brass, while Alison Roddy (Soprano) provided the foil in Easter Hymn.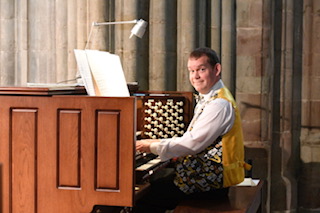 The soloists brought a wonderful diversity to the programme. Curzon Brass getting us to swing in 'Puttin On The Ritz', and dream of the southern states in' Georgia On My Mind' while Jenny Argent soothed us with her flute.
Alison Roddy took us to sweltering Tuscany with Puccini's 'O Mio Babbino Caro', and the front parlour with Ivor Novello's 'Waltz Of My Heart.'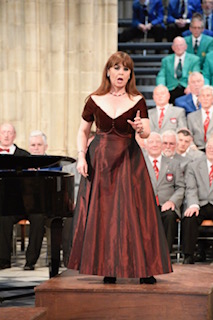 The Worcester choir as hosts were specifically in the spotlight. Conducted by Scott Wolfenden, they gave a confident rendition of 'He A'int Heavy,' and equally 'Drunken Sailor.' The decision to perform a male voice arrangement of Edward Elgar's 'Nimrod,' was rewarded with loud applause.
The quality of the whole event, compered by Sir Peter Luff, could be judged by the standing ovation received following 'World In Union' ;